Abe Says Japan Fully Behind US
On Pressuring North Korea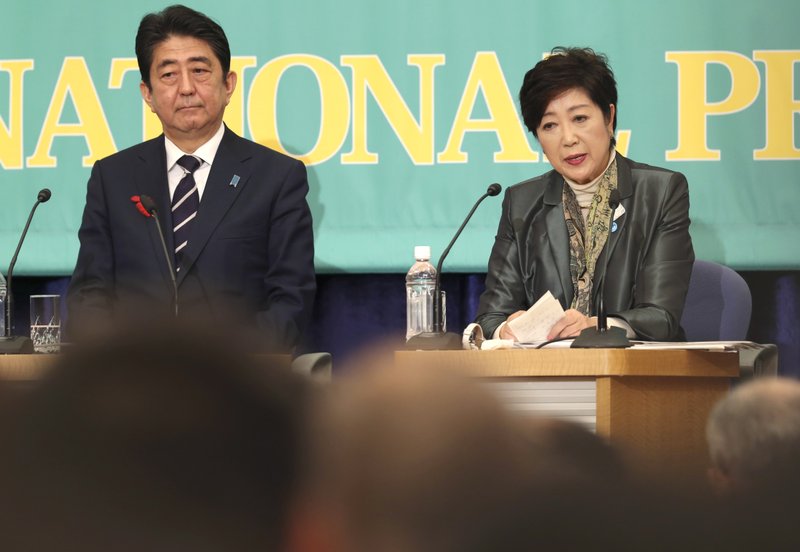 Party of Hope leader Yuriko Koike, right, speaks as Ruling Liberal Democratic Party leader and Japan's Prime Minister Shinzo Abe listens
during the party leaders' debate for the Oct. 22 lower house election in Tokyo, Sunday, Oct. 8, 2017.
(AP Photo/Koji Sasahara)
1 hour ago
TOKYO
(AP) — Japan's Prime Minister Shinzo Abe said Sunday that his government fully supports the U.S. stance on pressuring North Korea over its nuclear weapons program, with all options on the table.
In a televised debate Sunday among leaders of major political parties, Abe said North Korea had failed to deliver on past promises to give up its pursuit of nuclear technology made during "six-party" talks with Japan, China, the U.S., Russia and South Korea.
"They used the framework of the dialogue to earn time so that they could develop their nuclear technology," Abe said. "As the result, their nuclear capability has reached to this level and we cannot afford being deceived by them again."
Abe did not specifically comment on a tweet during the weekend about North Korea by U.S. President Donald Trump.
Trump said that 25 years of negotiations had not worked, with "agreements violated before the ink was dry, makings fools of U.S. negotiators. Sorry, but only one thing will work!"
Abe did say his government supports the U.S. stance that more pressure is needed and all options are on the table.
Concerns over North Korea are a top issue in a Japanese parliamentary election scheduled for Oct. 22.
SOURCE