Georgia Wildfire: Hot, Dry Conditions Vexing To Firefighters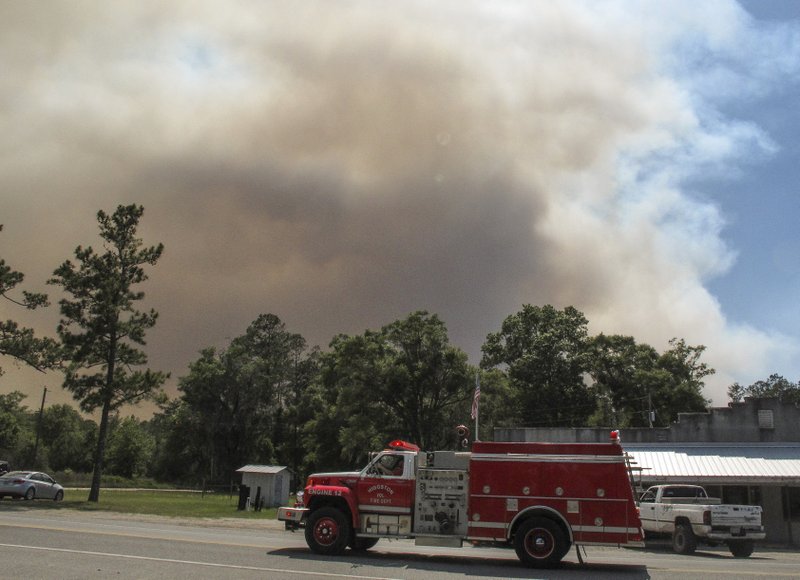 A fire truck passes as a plume of smoke rising from a wildfire burning, Monday, May 8, 2017, just outside the town of St. George, Ga.
(Ben Palm/Okefenokee National Wildlife Refuge via AP)
By RUSS BYNUM - 1 hour ago
ST. GEORGE, Ga.
(AP) — Jessica Boldin and her family evacuated 15 horses, six dogs and other animals from their ranch in rural Georgia as a vast wildfire emerging from the Okefenokee Swamp blackened trees behind their home.
Flames that pushed within 3 miles (5 kilometers) of St. George over the weekend continued spreading Monday after jumping a state highway not far from the center of their southeast Georgia community.
But Boldin said her family wasn't ready to leave yet, though the entire community was under a mandatory evacuation order.
"We don't budge on our property very easy," Bolin said Monday afternoon. "If it's down on top of us, we're ready to leave. We're not going to burn down with the house. But we're staying until it's on our behinds."
She's not alone.
Many in this community of about 2,000 near the Georgia-Florida state line stuck around Monday in spite of the evacuation order, not yet ready to leave everything to the mercy of the flames.
With temperatures forecast to climb into the 90s amid low humidity and no chance of rain, firefighters worried what would come next.
"It's going to be ideal for extreme fire behavior and a high potential for fire growth," said Tom Stokesberry, a spokesman for the multi-agency team combatting the fire.
Emergency officials in south Georgia's Charlton County ordered a mandatory evacuation Sunday for all of St. George and for nearby Moniac, small rural communities on the southeastern edge of the Okefenokee Swamp.
Lightning sparked a wildfire April 6 inside the vast Okefenokee National Wildlife Refuge. The blaze posed little threat to people or homes until Saturday, when strong winds pushed the flames across the fire breaks plowed along the refuge perimeter.
As of Monday, the fire had burned 210 square miles (about 545 square kilometers), including about 37 square miles (95 square kilometers) in Charlton County.
Mason Pair and his wife had packed up their valuables and had a ladder standing by to put sprinklers on their roof Monday in St. George. They also sent their son to stay with relatives outside the county. Pair said perhaps half of his neighbors had heeded the weekend order to evacuate. But he wasn't ready to join them — yet.
"It's a little unnerving," said Pair, 26. "But the flames are going to have to push people out of here."
Officials aren't forcing people to leave their homes, but are urging them to get out before the fire gets any closer, said Susan Heisey, supervisory ranger for the Okefenokee refuge.
As the week opened, more than 600 firefighters and support personnel were fighting the fire. Helicopters dumping water and tanker planes spraying fire retardant managed to keep the fire from spreading to homes in St. George over the weekend. Firefighters with tractor plows worked to carve a path of bare soil around the town as a barrier to the flames.
Local schools were closed Monday because of the blaze and a shelter was opened at a recreation center farther away.
Heisey said there was no way to know how long the evacuation order would stand. Emergency officials in neighboring Nassau County, Florida, were urging some residents to prepare in case they need asked to evacuate.
James and Lisa Burnsed drove the 10 miles from their home in Moniac to the four-way stop with a small grocery on one corner that's the center St. George. The fire had jumped across Georgia Highway 94, their main evacuation route, late Sunday and they wanted to see if there was still a clear way out Monday.
"It's going to have to get pretty close to the house, I think, before we just head out," James Burnsed said. "We've got too much at stake just to leave it."
His wife said they had important documents, family photos and spare clothing packed and ready to go.
"But we've got goats and chickens," Lisa Burnsed said. "And we don't know how we're going to get them out."
SOURCE
Ed Note:
The Great Okefenokee Wildfire... Will they ever gather their forces and put the damn thing out? 80% of NE Florida is suffering from the Smoke - people are being evacuated from their homes!! Schools are closed - -This is ridiculous! - - Do whatever it takes but for all that's reasonable - - - Put the fire out! There are those of us that are convinced the authorities are allowing this fire to burn. PUT THE FIRE OUT!

Governor Deal, how many aircraft and helicopters are in actual use fighting this fire? Ending this scourge upon your citizens and the citizens of north Florida should be of the highest priority! How much pain and suffering must be endured before you ask for Federal help? Please extinguish this 133,000 acre Wildfire before we see serious injury to the elderly, those with breathing problems and of course God forbid, deaths.
Comments Welcome..