Hillary Clinton's "Fire and Fury" Reading On Grammys
Slammed By Nikki Haley, Donald Trump, Jr.
By Sasha Savitsky | Fox News - 1 Hour Ago
Hillary Clinton's surprise Trump-bashing cameo during the 60th Annual Grammy Awards on Sunday night caused at least a couple of viewers to switch channels, namely the president's U.N. ambassador, and his oldest son.
Grammys host James Corden set up a pre-taped bit about who might take home next year's spoken word gong.
"We know that our current president does love winning awards and the good news is he may just be the subject of next year's winner [for Best Spoken Word Album]," Corden announced. "The question I've got is, who'll be the narrator?"
Outspoken anti-Trump stars John Legend and Cher then auditioned to be the narrator for Michael Wolff's book "Fire and Fury" about Trump's White House.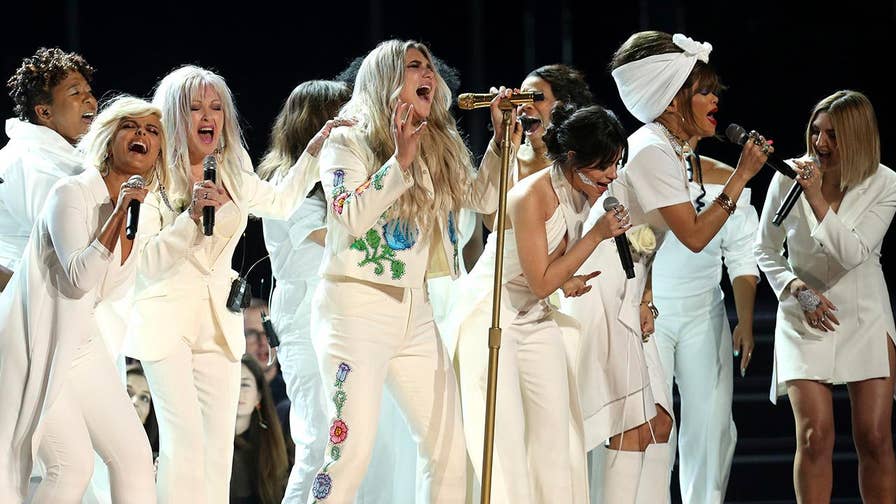 Snoop Dogg, DJ Khaled and Cardi B also read excerpts from the book during the fake auditions.
Finally, Clinton read from the book and Corden declared, "That's it! We've got it!"
Clinton said, "You think so? The Grammy's in the bag?"
Corden replied, "In the bag!"
The more Hillary goes on television the more the American people realize how awesome it is to have @realDonaldTrump in office #GrammyAwards2018
— Donald Trump Jr. (@DonaldJTrumpJr) January 29, 2018
Nailed it.
So sick of celebrity preaching, I could scream.
— Ben Lund (@RealBenLund) January 29, 2018
I have always loved the Grammys but to have artists read the Fire and Fury book killed it. Don't ruin great music with trash. Some of us love music without the politics thrown in it.
— Nikki Haley (@nikkihaley) January 29, 2018
I disagree. That part ruined the Grammys. Such a shame.
— Nikki Haley (@nikkihaley) January 29, 2018
That 👏🏻 was 👏🏻 amazing 👏🏻 @HillaryClinton 😂 #GRAMMYS
— Megan (@m_jensen5) January 29, 2018
The segment resulted in wild applause from the star-studded crowd. But not all were pleased. United States Ambassador to the United Nations Nikki Haley slammed the bit. However, the harshest words came from Donald Trump Jr.
After the show, Grammys Executive Producer Ken Ehrlich said getting Clinton to appear in the skit wasn't tough. However, he credited Corden with sealing the deal.
"She kind of took a couple of days to say 'yes,' but ultimately she saw the script, she knew what we were doing and she liked it."
Clinton recorded the segment near her home on Friday, the Grammys producer added.
He also admitted that he was aware the cameo was receiving some backlash, but said they stand by what they did.
SOURCE