[COLOR=rgba(0, 204, 102, 1)][RS][/COLOR] Vietnam Walkabout 2017 (I Corps)
07-24-2017, 04:20 PM
Last month (June) I visited Vietnam again, having been in 2015 for my own research trip, I really wanted to get back and see more. In 2015 I visited II, III, and IV Corps. This time I primarily stayed in I Corps to see a lot of the places I'd read about for years now and I was not let down. Out of all the areas of Vietnam I Corps probably retains most of the intact history from the French and Americans and hasn't been totally destroyed by expanding cities and towns. Highway 1 between Da Nang and Hue there are numerous French watchtowers and bunkers that were used to guard bridges and old French forts. You get a good idea of the French tactics against the Viet Minh - defend the roads and railway at all costs while the Viet Minh control the countryside. Unlike the Americans, the French didn't rely on Helicopters that much as it was still an early concept, roads were the primary method of transporting men and supplies and that's why there's a build up of towers and bunkers along the highways.
Before I set off for Da Nang from Saigon, I took a little trip out into the ANZAC area of operations for some reference gathering, to get a real sense of the landscape. One thing that kinda surprised me was how hilly this area was; it's not extreme but it's not completely flat either as I originally thought. History here is very hard to find, an occasional sandbag but the Nui Dat Base Camp has been entirely removed and there's houses and roads built over the old airstrip and barrack areas. I did wander out into the rubber plantation and my guide showed me where the old strip used to be and we dug a little into the ground and found the asphalt. It was called the Luscombe Airfield. The only substantial relic of the camp was the New Zealand communication bunker and a rock that the troops painted their insignia on.
Map of South Vietnam split into 4 Corps.

III Corps
Palace in Saigon - this is pretty much the only place in Saigon or near it that feels close to the war as a lot of the rooms have been left as they were.
The 'last flight' building is still there, it used to belong to the CIA and the helicopter in the picture belongs to Air America.
The Long Tan Cross, marking the spot the Aussies walked into a Viet Cong battalion. Very flat area, soil is dark red during the wet season. In the background you can see the the hill nicknamed the 'horse shoe'.
Nui Dat Base Camp - not much left, a few concrete platforms where command bunkers used to be. Vietnamese used it as a quarry after the war there's a lot of disturbance. Looking at SAS hill
New Zealand Artillery Battery communications bunker
During my research for rubber plantations I kept coming across this old French house. I had a rough idea where it was, so I got my guide to drive around the area and after a few wrong turns we finally drove into a field and there it was still standing.


I Corps
Warning: loads of photos
Spoiler!
Landing in Da Nang I drove south to Hoi An to meet my guide. He took me around the old city but none of that stuff really interests me, I was waiting for the day to be over so we could get going for our first rendezvous 80 miles to the west: Kham Duc Air Strip. In 1968 this place was overrun and the Americans flew in infantry to help reinforce the special forces camp, it was like a mini Khe Sanh except the Americans had to be evacuated under fire. The ride through the remote jungle-covered mountains was stunning. I couldn't help but wonder what the soldiers thought riding in their Hueys to Kham Duc. It's such a remote obscure little place. As usual all the old base was stripped away after the war, all that remains is the asphalt airstrip which is still visible. The strip has become a garbage dump for the local town which is now built on the old U.S base (bottom-right of image). I walked off the air strip into the old special forces camp area (left-centre) but I couldn't see much evidence other than some concrete platforms. I was also a little worried about mines.
Looking East towards Da Nang
Looking west towards Laos
The next day it was time to leave Hoi An and travel up to Hue on Highway 1. This road is a real gold mine, a lot of the stuff I didn't get to photograph as it took me by surprise while riding through but there are bunkers and towers every couple of miles, the French really tried to secure this route.
First stop was Hill 34, an old Marine base which there's no evidence it existed except for an old French bunker that the Marines also used. This is just slightly south-west from Da Nang Airfield.
We then drove to a series of lime stone mountains located to the east nicknamed the Marble Mountain. The U.S had a few lookout posts on the tops of these mountains and one of them you can walk up there.
I presumed this was graffiti from the time, not 100% certain
This is looking north and there would've been a sprawling base complex 50 years ago. To lower right there was a SOG compound. To the north is the china beach airfield.
Red Beach - the area the Marines would land their troops - directly opposite was a base called Viking.
From there, we drove up through the Hai Van Pass which is relatively famous now and a big tourist stop. Most tourists just hang around on the first few bunkers near the road but I'd read a lot about it and knew the base extended all the way up the mountain. The brick archway was built by the Vietnamese in early 1800s then the French took it over and built their own defenses.
Looking South towards Da Nang
Once you climb up past the base located on the road you're greeted by a large French bunker overlooking the entire valley - really awe struck. There was collapsed living areas next to it as well.
Looking down at the Pass
This is looking at the very top, the Americans had a base up here during the war and it's still in use.
Position from where the above picture was taken looking up at the base.
On the way towards Hue driving down from the pass my guide told me about another French outpost on the same road, so I had walk around and I'm guessing it was a checkpoint as it looked like living accommodation along with a few hastily built bunkers. It didn't make any sense to me but still very interesting to see real history.
Just before Hue we stopped at the Phu Bai airfield which was used by the French and Americans. Didn't get a chance to walk around too much but did explore this old bunker which was positioned just before the runway.
We arrived in Hue and although it's expanded exponentially there's still parts of the crumbling Citadel walls from the battle and bullet marks. I ended up on the south east corner which used to be a French base and that's why there's the bunkers on the entrances and corners of the Citadel walls.
Right corner, French bunker
Flanked by another bunker on the opposite side
Main entrance
Looks just like ingame
These are from the Hue war museum which is a collection of random vehicles
From Hue we drove west towards the A Shau Valley, past many sites of old U.S firebases; to climb Hamburger Hill aka Hill 937.
I went up there alone and it was pretty spooky, roughly an hour walk each way. The animals in the trees went crazy as I walked past. It was a surreal experience even though there's a path cut to the top you're still flanked by very dense jungle. I was unable to make out any bomb damage due how overgrown it was. Occasionally there's signs saying "100m helicopter crash site" or "enemy soldier fox holes" and pointing aimlessly off the beaten path into the jungle.
At the top there's a memorial
Looking East from Hill 937
From A Shau we drove north to Khe Sanh where we would spend 2 days recovering and exploring. It's a small little dusty town which survives through trade from Laos and tourism to see the combat base. During the 1968 battle the town was obliterated so everything you see now is all post-war. I was first interested in finding the location of an old French fort which was the original reason why the Americans were there as usual they would take over the majority of the French bases. As it turns out the government recently built a memorial on the old French fort site so there's nothing left, but walking around I did discover earth that was shifted and dumped over the hillside to make way for the new memorial and found sandbags which would've belonged to the old base.
Before we visited the combat base we drove along Highway 9 to see the Rockpile and Camp Carroll. I'd read extensively during my research for RS2 on this area and driving through this mountainous region I could look up and recognize the hilltops and knew what bases used to be on them. It was a surreal experience to actually be there and see it all but it didn't look real. Quite often you'd see flattened mountain tops - this is where the U.S sent in engineers to blow away the rocky outcrop and make it suitable for a large firebase.
Such as Firebase Fuller - overrun in 1971
Rockpile
There's nothing left of Camp Carroll except a few concrete foundations where the guns used to be. Occasional sandbags can be seen. While I was there the MAG guys were digging out unexploded bombs and I could hear them detonating them down the valley which added to the atmosphere.
Camp Carroll Memorial
Walking through the old base camp area
We doubled back towards the Khe Sanh Combat Base and came across a few old French bridges
On the base itself you're immediately greeted by 2 trinket sellers, people who claim to of dug up old relics. What was surprising about these guys was how persistent they were, ignoring them or telling them to go away didn't work - so I walked out into the overgrown airfield as I wanted to get out of the tourist area and try and find the old perimeter and I'd lost one of them but the other was still following me. Suddenly he stopped and started telling me to be careful and I thought well, he'll know the area better than me I should listen to him. So I got back on the path. The base got torn down after the Americans left in 1968, it was reopened in 1971 for operation Lam Son 719 so any structures still seen are from that time. But it was incredible to be there, and of course there's more sandbags strewn across the place.
2 well known hills that used to have U.S bases on them - looking East
Just West of Khe Sanh is the site of the special forces camp Lang Vei. Nothing there now and there's a new highway built right through the old site. Just memorial stands today.
A couple of days later after a bit of driving in North Vietnam we drove back down towards Hue on Highway 1 to see some DMZ. First stop was the Vinh Moc tunnels which ended up being better than Cu Chi as there's a a lot more tunnels and trenches to explore. The Vietnamese would use these tunnels to seek shelter from the B52s and artillery coming in from across the DMZ. A lot of shell craters are still visible.
Everyone's favourite weapon
A bit further south from Vinh Moc is the famous bridge connecting both Vietnams, many bunkers along the river's edge from the French era too.
Propaganda Speakers
Crossing the DMZ we stopped at Gio Linh, the site of one of 4 firebases making up 'leatherneck square'. Nothing remains except a tank and an old sign marking the old entrance to the base.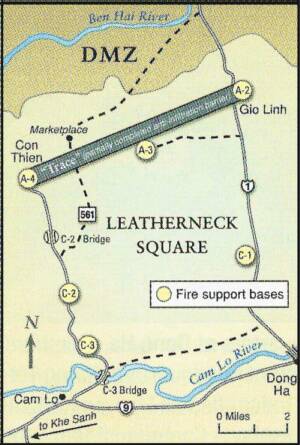 I didn't get a chance to visit Con Thien so it'll have to be next time. We were on route back to Hue to recover before our drive back to Da Nang but we had one more stop; Quang Tri. This town was like Stalingrad during the war, a complete meat grinder that was flattened. Rubble and ruin everywhere as the ARVN poured men in.
They've preserved one building from the war, I believe it was a school.
Quang Tri bridge there's the ruins of an old French watchtower
Inside the Citadel itself which is a mini version of Hue there's nothing left except the ruined walls and blockhouse/prison I couldn't work out what it was.
Original gate?
The 'blockhouse' whatever it may be it's the only structure inside the Citadel that looks like it's from the war period
South of Quang Tri is an old Catholic Church that was severely damaged through the war. There could be some interesting backstory behind this place.
Some misc photos;
Nothing says Vietnam more than a Water Buffalo
Outside of Hue along the beach to the East I was at the area where the ARVN troops evacuated in 1975 and also where the French landed 200 years prior. There were these small little dragons teeth all the way along the edge.
And that wraps up my trip, an incredible experience. Still a lot to explore but I'm itching to get back into some WW2 stuff.
(Thanks to Psycho Pigeon)