Israeli Polls Open with Netanyahu's
Power hanging in the balance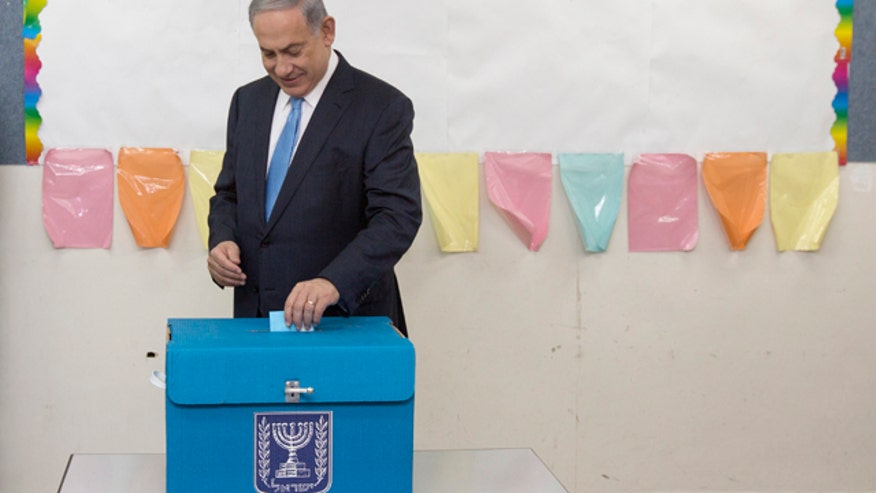 March 17, 2015: Israeli Prime Minister Benjamin Netanyahu casts his vote during Israel's parliamentary elections in Jerusalem.
(AP Photo/Sebastian Scheiner, Pool)
Published March 17, 2015 FoxNews.com
Israelis voted Tuesday in parliamentary elections that would decide if Prime Minister Benjamin Netanyahu would be returned for a third consecutive term as premier after he made a dramatic last-minute pledge to prevent the establishment of a Palestinian state.
In an interview published Monday in the nrg news website, Netahyahu said withdrawing from occupied areas to make way for a Palestinian state would only ensure that territory will be taken over by Islamic extremists. When asked if that means a Palestinian state will not be established if he is elected, Netanyahu said "indeed."
The prime minister doubled down on his remarks in a phone interview with Israel's Channel 10 television after casting his ballot Tuesday, saying that any state established alongside Israel would "attack us with rockets ... Who wants such a thing?"
The statements marked a reversal for Netanyahu, who laid out his support for Palestinian independence in a landmark 2009 speech, shortly after his return to the premiership after a decade away. In the intervening period, two rounds of peace talks have failed and Netanyahu has continued to expand Jewish settlements while portraying Palestinian President Mahmoud Abbas as the main obstacle to a peace deal.
Polls have consistently show Netanyahu's conservative Likud party slightly trailing the centrist Zionist Union in the race for the most seats in Israel's 120-member Knesset. In response, Netanyahu has appealed to Likud's staunchest supporters to "close the gap" and warned about the consequences of what he termed as a "left-wing government" coming to power.
Netanyahu's opponents have attacked him for what they call his inattention to Israel's high cost of living and growing income inequality. Reports of the extravagant spending habits of the Prime Minister and his wife have done little to endear them to the public, and an expected bump from Netanyahu's address to Congress about Iran's nuclear program earlier this month failed to materialize.
Herzog has said he would revive peace efforts with the Palestinians, repair ties with the U.S. and reduce the growing gaps between rich and poor.
"Whoever wants to follow Bibi's path of despair and disappointment will vote for him," Herzog said after casting his vote, using a popular nickname for Netanyahu. "But whoever wants change, hope, and really a better future for Israel, will vote the Zionist Camp lead by me."
Israelis cast ballots for a party list, rather than individual candidates. After an election, it typically takes weeks of negotiation to form a governing coalition and determine who will be prime minister.
Several smaller centrist and religious parties that have not pledged support for either Netanyahu or Herzog will play an oversized role in such negotiations.
In his interview with Channel 10, Netanyahu ruled out a coalition with Herzog and said he would seek an alliance with the ultra-national Jewish Home party, which also opposes Palestinian statehood.
Netanyahu portrayed Herzog as someone who would easily give up territory for a Palestinian state. The Palestinians want to establish a state in the West Bank, Gaza Strip and east Jerusalem, lands Israel captured in the 1967 Six Day War.
"We have a different approach," Netanyahu said. "They (the Zionist Union) want to withdraw. I don't want to withdraw. If I put together the government, it will be a nationalist government."
Herzog, meanwhile, signaled he is going back on what had been perceived as an unpopular power-sharing deal with the co-leader of the Zionist Union, former Foreign Minister Tzipi Livni.
Under that deal, Herzog and Livni would each have served as prime minister for two years if they won the elections.
Meanwhile, police said they arrested an Israeli soldier on suspicion of incitement of violence. The soldier wrote on Facebook that if a leftist were to rise to power, the soldier would follow in the footsteps of Israeli extremist Yigal Amir, who assassinated dovish Prime Minister Yitzhak Rabin in 1995.
The Associated Press contributed to this report.
SOURCE
Ed Note:
The Taxpayers and Voters in the USA should be ashamed of this current Obama Administration. Obama and his trolls have dropped well over $350k influencing the Israeli Elections against Netanyahu. If another nation were to attempt this unethical action in the USA, there'd be hell to pay. Obama is outta line.

Obama seems to be more arrogant and aggressive toward friends and allies of the USA than he is toward the USA's enemies. WTF is wrong with Obama, the closet Muslim? He is just wrong. Admittedly, I cannot wait for his ass to be out of office.
Israelis Vote as 'King Bibi's' Reign
Hangs in the Balance
BY LUKE BAKER - JERUSALEM Tue Mar 17, 2015 6:18am EDT
(Reuters)
- Millions of Israelis voted on Tuesday in a tightly fought election, with Prime Minister Benjamin Netanyahu facing an uphill battle to defeat a strong campaign by the center-left opposition to deny him a fourth term in office.
In many respects the vote has turned into a referendum on "Bibi" Netanyahu, in power for a total of nine years spread over three terms. If he wins again he would be on track to become Israel's longest-serving prime minister.
Netanyahu's campaign has focused on the threat from Iran's nuclear program and the spread of militant Islam. But it's a message many Israelis say they are fed up with and as a result the center-left's campaign on socio-economic issues, especially the high cost of living in Israel, appears to have won more traction with voters.
When the last opinion polls were published on March 13, the center-left, known as the Zionist Union and led by Isaac Herzog, held a four-seat advantage over Netanyahu's right-wing Likud, a margin that had it set for a surprise victory.
But in the last three days of campaigning, Netanyahu went on a blitz to try to shore up his Likud base and attract votes from other right-wing, nationalist parties, promising more building of Jewish settlements and that the Palestinians would not get their own state if he were re-elected.
Those bold pledges, if carried out, would further isolate Israel from the United States and the European Union. But they may go some way towards convincing voters to plumb for what they know rather than others on the right.
Surveys show around 15 percent of voters are undecided, meaning the ballot could sway widely - opinion polls have rarely been a precise predictor of Israeli elections in the past.
Voting ends at 2200 local (1600 ET) on Tuesday, with the first exit polls published immediately afterwards.
If Netanyahu can draw votes from other right-wing parties, he may be able to close the gap with the center-left and be in a position to be asked first by Israel's president to try to form a governing coalition.
No party has ever won an outright majority in Israel's 67-year history, making coalition-building the norm. It is also an opaque and highly unpredictable game, with any number of allegiances possible among the 10 or 11 parties expected to win a place in the 120-seat parliament, the Knesset.
COALITION TACTICS
Since there are more parties on the right and far-right of the spectrum, Netanyahu is probably better placed to cobble together a coalition, even if he narrowly loses the election. But if the center-left does win by four or more seats, it should get the nod first to try to form a coalition.
Under sunny skies, Netanyahu went to vote early, going with his wife and one of his sons to a ballot box in a school near their family home in Jerusalem. He acknowledged that it was a tight race and urged voters to back the right.
"To prevent the rise to power of a left-wing party, there is only one thing to do - close the gap," he said.
Herzog, who has overcome criticism of his slight stature and reedy voice to lead a resilient campaign, voted in Tel Aviv, where he emphasized that the vote was about a new direction.
"Whoever wants to continue the way of Bibi - despair and disappointment - can vote for him," he said. "But whoever wants change, hope, and really a better future for Israel, vote for the Zionist Union under my leadership."
The son of a former president and the grandson of one of Israel's foremost rabbis, Herzog, 54, is as close as it gets to having a Kennedy-style heritage. While his leadership has been critiqued in the past, he has shown wit and intellect on the campaign trail, bolstering his image among voters.
"For the first time in my life, I'm going to be voting for Labour, that is the Zionist Union," said Dedi Cohen, 39, a lawyer in Tel Aviv. "The risk of Netanyahu building the next government is too big. How long has he been in power? Nine years? It's too much. Enough."
Whatever happens in Tuesday's vote, the key will be in coalition building, with three or four parties critical to how the balance of power ends up tipping.
Moshe Kahlon, the leader of Kulanu, a centrist party that broke away from Likud, is seen as perhaps the most important "kingmaker". A former communications minister credited with bringing down mobile phone prices, Kahlon could ally with either Netanyahu or Herzog, bringing up to 10 seats with him.
Yair Lapid, the leader of the centrist Yesh Atid party, is another power-center. He also could ally with either the right or the center-left, bringing somewhere between 12-14 seats with him. But he does not sit comfortably with religious parties, making him less flexible in coalition negotiations.
If the center-left is to put together a coalition, it needs at least 61 seats, meaning as well as Kahlon or Lapid and the far-left Meretz party, it would need the support of the ultra-Orthodox parties, which are expected to win around 13 seats.
Another factor is the Arab parties, which for the first time have united under one list. That has strengthened their standing with voters and they are expected to win around 13 seats as well. While they are unlikely to join a center-left coalition, they could give it tacit support in parliament, which could give the center-left leverage over Netanyahu.
(Additional reporting Dan Williams in Tel Aviv; Editing by Sophie Walker)
SOURCE
Ed Note:
There is no denying that Netanyahu has been good for Israel. Its obvious his loyalty to the USA is solid but is Obama's loyalty to Israel and Netanyahu?