President Trump Threatens Palestinian Authority Funding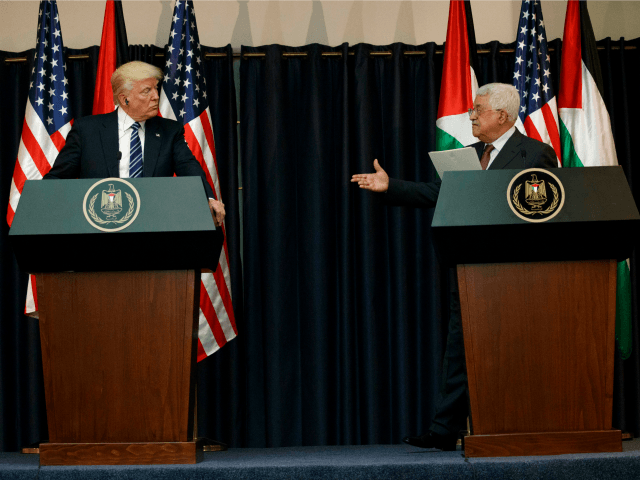 AP/Evan Vucci
by Joel B. Pollak - 3 Jan 2018
President Donald Trump threatened to cut aid to the Palestinian Authority on Tuesday with two tweets that criticized Palestinian leaders for showing "no appreciation or respect" to the U.S. and being "no longer willing to talk peace."
The context for Trump's remarks was the administration's announcement earlier in the day that it was suspending $255 million in aid to Pakistan because of that government's alleged "double game" on terrorism.
"They work with us at times, and they also harbor the terrorists that attack our troops in Afghanistan," UN Ambassador Nikki Haley said to reporters, according to
Reuters
. "That game is not acceptable to this administration. We expect far more cooperation from Pakistan in the fight against terrorism."
Trump later tweeted:
It's not only Pakistan that we pay billions of dollars to for nothing, but also many other countries, and others. As an example, we pay the Palestinians HUNDRED OF MILLIONS OF DOLLARS a year and get no appreciation or respect. They don't even want to negotiate a long overdue…
— Donald J. Trump (@realDonaldTrump) January 2, 2018

…peace treaty with Israel. We have taken Jerusalem, the toughest part of the negotiation, off the table, but Israel, for that, would have had to pay more. But with the Palestinians no longer willing to talk peace, why should we make any of these massive future payments to them?
— Donald J. Trump (@realDonaldTrump) January 2, 2018

President Trump has already signaled his support for the Taylor Force Act, which passed the House last month and would cut some U.S. funds to the Palestinian Authority as long as it continues to pay stipends to Palestinian terrorists in Israeli prisons and the families of dead Palestinian terrorists.
The Palestinian Authority has been sharply critical of the Trump administration since the president's decision last month to recognize Jerusalem as the capital of Israel, and to move the U.S. embassy in Israel from Tel Aviv to Jerusalem.
Joel B. Pollak is Senior Editor-at-Large at Breitbart News. He was named to Forward's 50 "most influential" Jews in 2017. He is the co-author of
How Trump Won: The Inside Story of a Revolution
, is available from Regnery.
SOURCE
Ed Note:
Somebody please tell these Palestinian birdbrains President Trump is not "blackmailing" anyone. People are tired of funding foreigners who hate/threaten the USA and its Allies. A tad of gratitude would go a very long way in ensuring benefits continue.
Comments Welcome..